Inspired by the View
15 Nov 2014
A gem by celebrated builder R.M. Buck Builders has a strong connection with its surroundings and great views from every room
By ROB YOUNG » Photos by HOLGER OBENAUS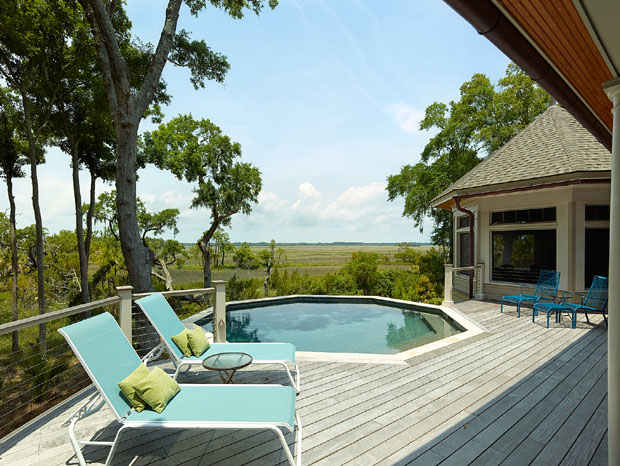 In constructing his Kiawah Island home, Jerrold Mitchell lightheartedly references his "Yankee sensibilities." Sure, he has a discriminating palate, but those tastes really just amount to common sense, and respect for workmanship and budget. In R.M. Buck Builders, Mitchell found a team that shared his affections and one that could deliver on both counts.
"We wanted a solid house and our budget respected, and some friendly people that if a problem did come up, it would be easy to resolve," Mitchell said. "And that's been the case with the Bucks. It's been a great combination."
The construction firm specializes in building luxury homes in downtown Charleston, as well as Kiawah, Johns Island and Seabrook Island. Helmed by family patriarch Bob Buck, wife Renee and son Ryan, the family has for decades now impressed clients and contemporaries. "They're very experienced in building on Kiawah, very straight shooters, and nothing is hidden," Mitchell said. "When I have visitors over who know something about the construction and materials, they know the construction is top of the line."
Coming to Kiawah
The Mitchells first began visiting Kiawah nearly 30 years ago, drawn to the area because of its climate, beaches and natural surroundings, which provided an ideal family vacation spot. They continued returning and bought a condominium about 20 years ago. Then two years ago, the Mitchells purchased their home site. "It's even better today than when we first came down – and we loved it then," Mitchell says. "It's improved because of the upgrade to facilities – the Kiawah Island Club and sports pavilion for exercise and tennis. Charleston, I thought, was a pretty sophisticated city 30 years ago, and it's become even more sophisticated in terms of restaurants, culture and preservation."
In purchasing the land, the Mitchells sought a property with marsh views for a close-up view of area wildlife and tidewaters. "We always thought the beaches were wonderful, but the real special nature of the island relates to the tide changes and the saltwater marshes," Mitchell says.
The Mitchells first partnered with architect Marc Camens to design the build. "He listened to what we wanted and we had some special requirements," Mitchell says. "We didn't want a McMansion, a giant look-at-me type house. We wanted a nice, modest home, but one that was very well-appointed."
The view was given the most prominence. "The view was taken advantage of really well. A lot of glass was put into the rear façade of the home and it's got a fantastic view of the Kiawah River," Buck says.
But the Mitchells also placed special emphasis in the creation of an art space, as well as an area for book storage. "We wanted the view to be the focal point of everything, and to be able to see the marsh from every room. Having a lot of outdoor space with a large deck and pool, and a large screened-in porch so you could get out and enjoy the marsh and not just look at it was also important," Jerrold says. "My wife Ann is an artist, and she needed an art studio, so we had to have that as well. And I collect books, so I needed a lot of bookcase space – a book nook, you might call it."
The art studio, Buck says, was a definite highlight. "We built a lot of additional rooms – a lot of fun rooms – but her studio is one of a kind," he says. "Just the way we built it, from the simplicity to the painted plywood floors. It's a perfect space for her crafts, and if she drops paint on the floor, it's not a big deal. It's not an overly expensive space, but it is unique."
The pool is an elevated salt water pool from Blue Haven Pools & Spas. The Mitchells wanted an extremely low maintenance pool built with materials that would last a long time. Custom travertine pool coping was used to fit the straight edge shape, along with a natural looking pebble finish and an advanced control and salt water sanitation system, that will allow the homeowners to enjoy the pool for many years.
In deciding on the builder, the Mitchells interviewed a number of prospects before choosing R.M. Buck. They were swayed by the Bucks' familiarity with Camens' work, and they also liked that the builders were family.
"The family approach is key. All three of us are principals in the company," Ryan Buck says. "All three of us are very involved in every job we build. My father will usually get the job started by getting the site work and foundation done, and getting the structure framed. He's actually a framer – that's his background. I come in the middle stage, get the homes roughed in and closed up, and my mother comes in and finishes each home. The family team is much different than most builders in town. We approach it as a team, and have different roles that overlap quite a bit."
A Landmark Home
The Mitchells' home actually represents a milestone of sorts for R.M. Buck and Camens. The project is the 40th such collaboration for the Bucks and Camens, the work spanning more than 15 years and totaling more than 100,000 square feet in home builds or renovations. The Bucks maintain strong relationships with other architects as well, but the number of projects demonstrates a winning combination. "We know how Marc likes things built. There's just very little question on our end when we're working with Marc," Buck says.
Like the Bucks, Camens hails from up north, which helps the pairing. "Marc comes from upstate New York and we come from the New England region, and I just feel like we think alike," Buck says. "Coming from the same area, you tend to have the same construction practices. We build things very similarly up north. And that thinking just sort of came down south once we arrived after Hurricane Hugo. It really came together well – meeting Marc and starting a relationship with him."
The Mitchells found the Bucks to be authentic. "Bob always addressed any problem – and I can't think of any problems to be honest," Mitchell says. "But he would give you a straight answer right away. He was very upfront, very straight. You got the feeling that this was a guy who had built a number of houses himself with his bare hands. And if he was looking at the work of a subcontractor or trying to resolve the problem, not only was he doing it intellectually, he was doing it because he had his hands on those very things in the past."
As helpful as Bob was, the Mitchells had similar praise for Renee Buck, particularly given her keen eye for the tiniest elements. "She came into the house and if there was just the tiniest chip of paint, or scratch, if something didn't look exactly straight, she would correct it immediately," Mitchell says. "She has very good eyes for the small details. You need a pro and she knew where to look and what to look for. If you build a house, something will always need a little adjusting here or there."
Multiple Services
The Mitchells also appreciated the cabinetry. R.M. Buck has supplied furniture-grade, custom pieces through its subsidiary business, Island Cabinet Company, since 1990. "We're one of the last groups in town to offer custom cabinetry," Buck says. "Every room in that house has some really high-end furniture-grade cabinetry – all hand-built on Johns Island. We build them, we finish them and then we deliver and integrate them into the house. Ultimately, our goal is to build the house like a cabinet, like a fine piece of furniture. That's our mission."
R.M Buck also offers a maintenance program for the homes or properties that the firm either constructs or renovates through RMBB Property Management. It's an exclusive service for their clients or home owners, such as the Mitchells, in which the company provides a number of amenities, including custom weekly and bi-weekly home checks; comprehensive property inspections; pest control; contracted landscape maintenance and home repairs; as well as hurricane and storm preparation and cleanup services. "The home maintenance, home management program we have is very important to these types of homes we're building," says Buck. "They require maintenance. They require someone to oversee them. So when Mr. and Mrs. Mitchell go back up north for three or four months, or however long they leave, we're here and we're watching the house weekly."
Additionally, RMBB Property Management's preventative and routine maintenance includes recurring power washing; biannual property inspections for wind and water damage, dry or wet rot; tree and landscaping health assistance; and annual and biannual system servicing, such as HVAC, plumbing and pool. Then through its concierge services, RMBB Property Management offers pre- and post-departures house cleaning, car shuttle services, and grocery delivery and stocking. "We're visiting the house weekly and servicing the house weekly throughout the year," Buck says. "Every month, every week, we're doing something to take care of the investment they made there. So when they come to town, and the house hasn't been used for three months, there aren't any surprises."
All told, the build and services rendered left the Mitchells grateful homeowners. "They emphasize building and taking care of good, solid houses," Mitchell says. "They said what they meant and they meant what they said."
Resources:
Builder: R.M. Buck Builders, 843-559-1155, rmbuckbuilders.com
Architect: Camens Architectural Group, 843-768-3800, camensarchitecturalgroup.com
Pool: Blue Haven Pools & Spas, 843-552-6000, bluehavensc.com